2019-07-28 18:51:00
DERMACOL, a.s.
https://www.dermacolmake-upcover.com/images/blog/383-clanek.jpg
Dermacol - Redakce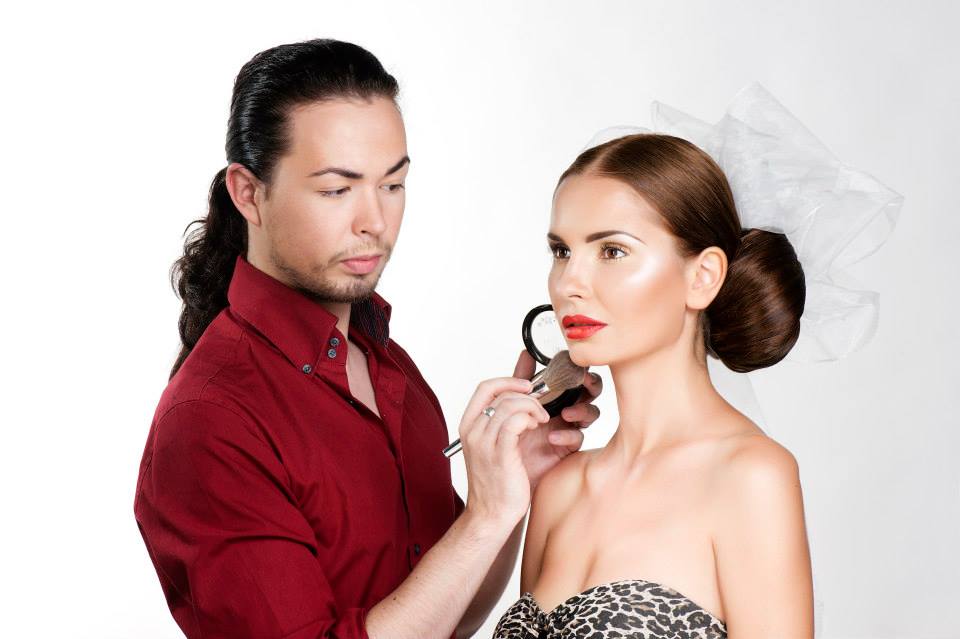 Tomáš has been Dermacol's make-up artist for eight eyes. Over that time, he has become more familiar with Dermacol products than anyone else has. Which products does he consider absolutely essential and what does he as a professional make-up artist think about Dermacol Make-up Cover? What are his tips for beautiful and healthy skin and what make-up inspiration does he recommend for the upcoming fall season?
The Slovak Professional of the Year in the Make-Up category for 2009 and 2010
The Slovak Make-Up Champion for 2009
The winner of the Prague Beauty Expo Cup for 2009
Five-time absolute winner of the Face of the Year beauty contest in 2009, 2010, 2013, 2015, and 2017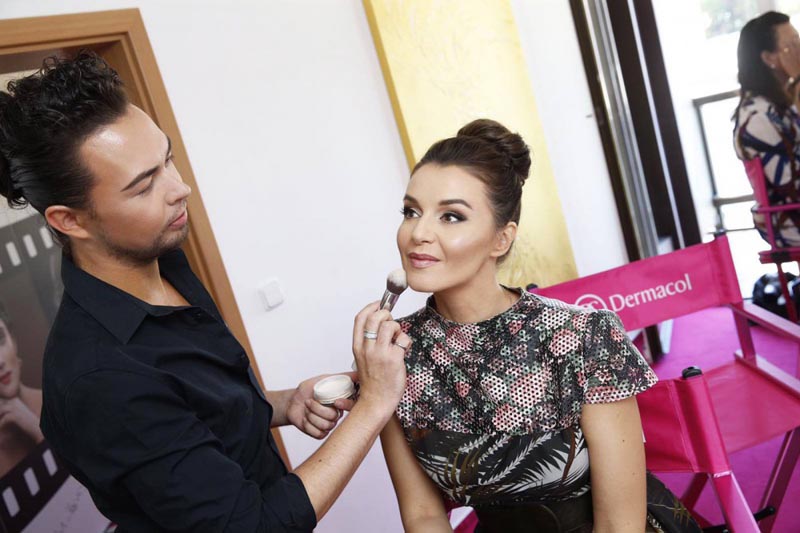 DC: How long have you worked with Dermacol and how did the collaboration start?
Tomáš: I have been Dermacol's make-up artist since 2012. I started in Dermacol as a store manager. A friend of mine recommended this job to me. I have to know Dermacol and its products from a different angle than a make-artist at promo events, or photo and film shoots. Obviously, I continued working as a professional make-up artist while I also worked as the store manager and after many years of hard work, I became Dermacol's official make-up artist.
DC: Do you still remember your first job for Dermacol as a make-up artist?
Tomáš: I remember Ilona, the Export Marketing Manager at that time, who called my studio to tell me about working on photo shoots for the Export Department. She wanted me to send her examples from my portfolio that focused on bold make-up. That type of make-up was very desirable among our distributors for promotional photos.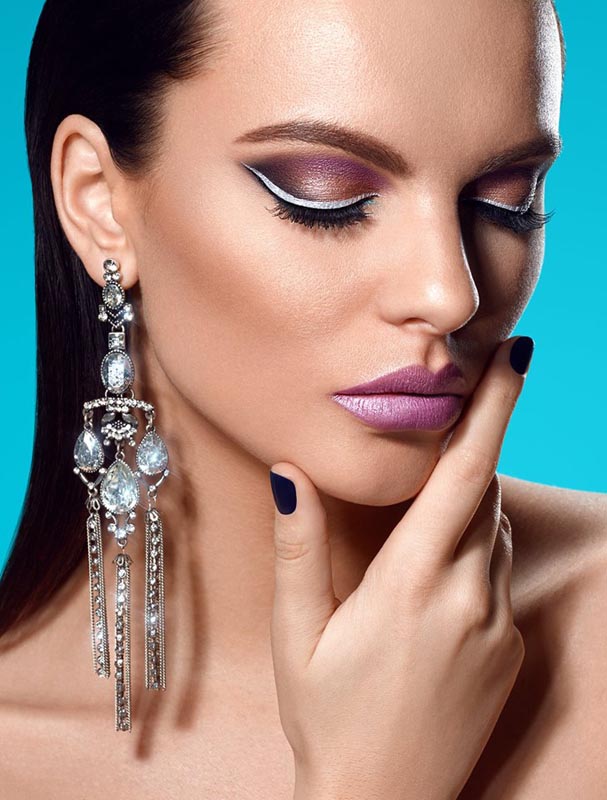 DC: Has it always been your dream to become a make-up artist?
Tomáš: Yes. As a child, I would always draw something and later I realized that I wanted to become a make-up artist. I even studied at a secondary school with the "Make-Up Artist – Wig Maker" specialization.
DC: What do you like most about your job?
Tomáš: The best part about it is the creative aspect, the ability to use my imagination. To be able to change a seemingly plain and insignificant woman into a beautiful one – that is the charm. Women are my greatest inspiration. That's why I really like the make-overs that we do with Dermacol. It is not a boring job, there's always something new.
DC: Were you familiar with Dermacol products before you started working for Dermacol?
Tomáš: Even as a child, I was familiar with the body and sun care lines. As a make-up artist, I became introduced to Dermacol through the unique Dermacol MAKE-UP COVER and the Invisible Fixing Powder.
DC: And now, after so many years of working for the brand, what are your favorite Dermacol products?
Tomáš: In my work, I most often use the Invisible Fixing Powder, make-up bases, Caviar Long-stay Make-up & Corrector, 16H Matic Eyeliner automatic eyeliners, the lengthening Ultratech Mascara and Vampire Mascara and, of course, the long-lasting 16H Lip Colour. From the face line, I really like the moisturizing Hyaluron Therapy Refreshing & Hydrating Eye Mask, the BT CELL Intensive Lifting & Remodeling Care serum and the moisturizing Aqua Beauty face cream. I myself like using the Black Magic line, especially the Black Magic Detox & Pore Purifying Peel-of Mask and the mattifying Matt Control Make-up Base and Matt Control Make-up.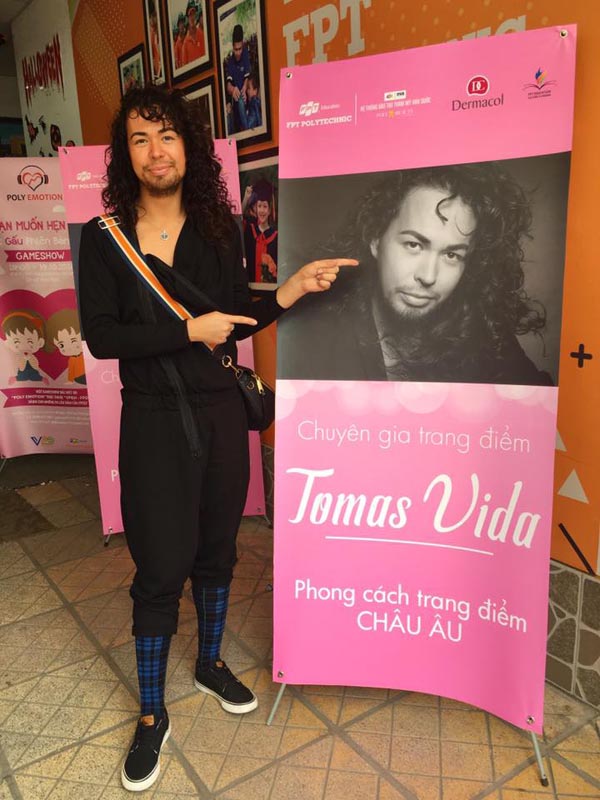 DC: What do you as a professional make-up artist think of Dermacol MAKE-UP COVER?
Tomáš: It is a universal product. It can be used as a great, high-coverage concealer or a foundation suitable for professional make-up or film shoots. The skin looks even and clean after you apply it. It is also great for the body, during performances. Sometimes, when I do not need to achieve an extreme coverage effect, I mix it with a face cream for a lighter, more natural effect.
DC: What do you like about working for Dermacol? Has it brought about anything new for you?
Tomáš: I really like that Dermacol keeps developing and innovating and they launch new products almost every month. Over the years that I have worked for Dermacol, I can see that they have made incredible progress in all respects. This collaboration has brought me a lot of life experience and unforgettable moments. I can say that I have matured here and I have learned a lot. I have seen a lot of interesting places and have met many great people, especially thanks to the Export Department. I have traveled for business to Vietnam, Kazakhstan, and Armenia. I had the opportunity to work for our distributors from Jordan and Lebanon as part of the Hair & Make-up Show.
DC: Other than working for Dermacol, what does your work involve? What else have you been working on?
Tomáš: I work a lot with beauty and fashion magazines and with Slovak television on photo and film shoots and I do make-up for editorials. I also have private jobs – I do make-up and hair for weddings and balls and I have my private clients. I work as a make-up artist for fashion shows showcasing Czech and Slovak fashion designers. I represent the Dermacol brand on Slovak TV in a live show called Ladies Club. We always agree on a topic with the production team and cover it live. I show different make-up techniques and I share make-up tips and tricks that viewers can use in real life.
DC: What is your most interesting work experience?
Tomáš: All work opportunities are interesting, there is always something new. But if I were to point some of them out, then I would say working with the world renowned photographer Andre Rau in Paris and the French Vogue team.
My work for Dermacol at the Karlovy Vary International Film Festival has also been very interesting. I have had an opportunity to do make-up for Czech and Slovak actresses and models, but also for the Oscar-winning director and screenwriter Barry Levinson, actress Anna Paquin and actor Tim Robbins.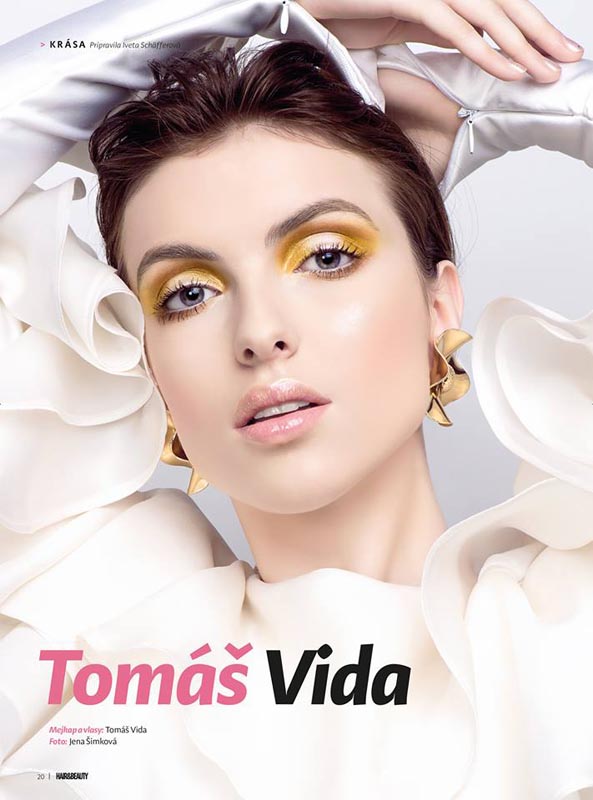 DC: I know that in Slovakia you participate in the Face of the Year contest that you have won several times. Can you tell us more about it?
Tomáš: It is a contest for make-up artists with a specific topic every year. The winner is chosen by a jury comprising professionals from the industry. I am a five-time absolute winner from 2009, 2010, 2013, 2015 and 2017. What I like about this contest is that I always have to creatively express a certain topic. It is a challenge for me to be different from the competitors and show something new and different, show my perception of beauty. I can say that it is about overcoming myself.
DC: Do you have any occupational biases? What do you notice in people, women in everyday life?
Tomáš: I automatically watch women and what they look like. Whether I want to or not, it's hard for me not to notice. I can immediately see how I would do their make-up, what I would do completely differently, what I would enhance and what I would hide.
DC: Do you work on yourself? Do you attend different courses or are you self-taught?
Tomáš: Learning is a life-long process and my profession is not any different in this respect. Things continue evolving, so I have to keep improving. I last attended a Masterclass in London with Mario Dedivanovic, Kim Kardashian's make-up artist. The course was focused on soft glam make-up, a complete make-up look with face contouring that is distinctive but does not seem heavy. This course confirmed that I use correct techniques and it also taught me different ways of make-up application. I also had an opportunity to learn about and take home many new products that I had not been able to work with.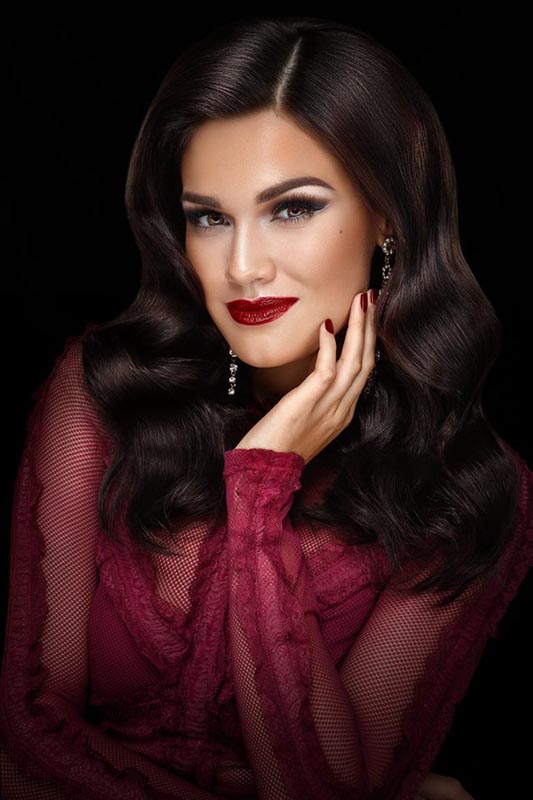 DC: If you have a free hand with make-up and you don't have to follow any assignment, where do you find inspiration?
Tomáš: I find most inspiration in photographs; I admire a lot of photographers and fashion designers. I also like to collect books with art and fashion photographs and fashion magazines. Of course, I use the Internet for inspiration, especially social media outlets such as Instagram. Inspiration is everywhere around me. During photo or film shoots, I am inspired by the actual model, styling, jewelry, or some other detail.
DC: In your opinion, what are the biggest mistakes that women make in terms of make-up?
Tomáš: The most common mistakes with make-up are an incorrect foundation shade, ungroomed or badly shaped eyebrows, incorrectly applied blush, transitions between shades that are too sharp, and last but not least, improperly chosen lipstick or lip liner shade.
DC: Which facial features should women focus on? What should they enhance when they do not have a lot of time to spend on their make-up?
Tomáš: For a day look, I would point out five things – a moisturizing cream,, a covering concealer, a mascara, a blush and a lipstick or a lip gloss. You don't always have to use a full-coverage foundation or a layer of powder. A concealer may be sufficient, or you can finish toning your skin with a light BB cream or a tint cream with an SPF.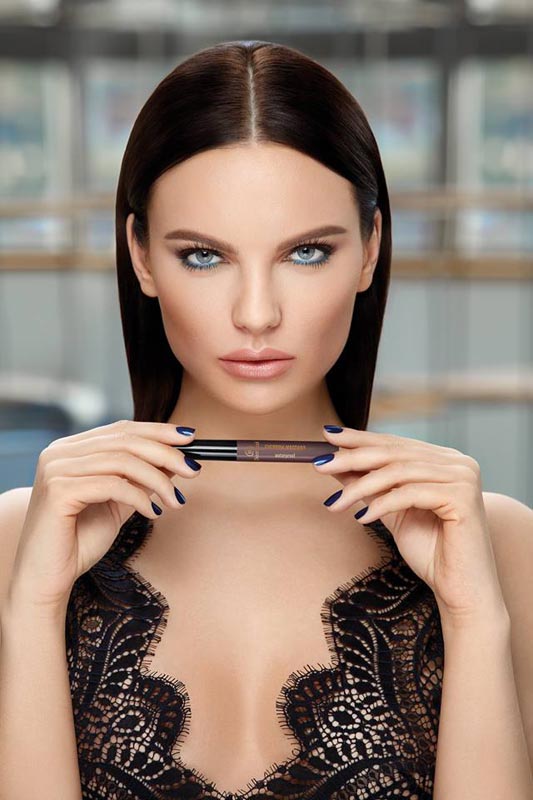 DC: Can you give as a tip for beautiful skin?
Tomáš: The most important thing is healthy and clean skin. That's why I always recommend face care products together with make-up products to my clients. Regular skin care is more important than make-up, which only enhances the beauty of a face.
DC: The fall is approaching. Can we expect some special cosmetics trends or a different make-up styles next season?
Tomáš: As far as trends are concerned, the nude look is still in, ideally with a BB or a CC cream, glowing and healthy shining skin. Minimalistic make-up goes great with bold, deep and rich lipstick shades – red, purple, and burgundy. Lips glosses are also making a return in shades from nude to metallic shiny effects. For an evening look, don't forget to highlight your cheekbones. An apricot blush goes well with chocolate or cinnamon eye shadow. Distinctive cat eyes have been replaced by more gentle and sophisticated thin lines. Perfectly shaped eyebrows, finished with a pencil and fixed with a gel are still trendy.